Fahrenheit 451 – Ray Bradbury
Fahrenheit 451 – Ray Bradbury
This novel is the story of Guy Montag, a fireman who lives in a future where firemen set houses on fire to burn books, rather than put then out. The people in this society do not read books, enjoy nature, spend time by themselves, think independently, or have meaningful conversations. Instead, they drive very fast and watch excessive amounts of television. When Montag encounters a strange seventeen-year-old girl named Clarisse McClellan, who seems to be the opposite of everything Guy knows, he begins to question his society and the banning of books. 

I felt this book was fairly good, I think I may have waited a little to long to read it, as I'm not quite as into dystopian-antigovernment fiction as I was when I was younger. But, as far as the genre goes it was pretty good! I think the book makes some very important points about the value Literature, specifically controversial literature, brings to our society. I also think that in today's society, where computers,tv, and smart phones follow us wherever we go, it's a refreshing reminder to think of how superficial those devices would be without literature and controversial discourse.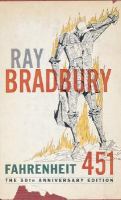 Fahrenheit 451
Classics, Science Fiction, Dystopian
Simon Schuster
1953
Available in hardcover, paperback, audio and ebook formats
159
"Fahrenheit 451- The temperature at which book paper catches fire and burns."
Guy Montag is a fireman. His job is to destroy the most illegal of commodities, the printed book, along with the houses in which they are hidden. Montag never questions the destruction and ruin his actions produce, returning each day to his bland life and wife, Mildred, who spends all day with her television "family." But when he meets an eccentric young neighbor, Clarisse, who introduces him to a past where people didn't live in fear and to a present where one sees the world through the ideas in books instead of the mindless chatter of television, Montag begins to question everything he has ever known.
The sixtieth-anniversary edition commemorates Ray Bradbury's masterpiece with a new introduction by Neil Gaiman; personal essays on the genesis of the novel by the author; a wealth of critical essays and reviews by Nelson Algren, Harold Bloom, Margaret Atwood, and others; rare manuscript pages and sketches from Ray Bradbury's personal archive; and much more. Here, at last, is the definitive edition of a classic of world literature.