Cinder – Marissa Meyer
Cinder – Marissa Meyer
I am surprised by how much in enjoyed this book! I have never been a big fan of the original Cinderella; she is really only good at being nice and pretty, which makes for a pretty boring character.

But Cinder isn't like that at all; she's adventurous and snarky and good at fixing things; so much more in charge of her own destiny than her fairy tail counterpart. I loved the details about Cinder's cyborgy additions; how she can tell when people are lying or watch TV in her head. I was also interested in the idea that cyborgs (who are basically just people with disabilities that have been fixed with science) are second class citizens. I think it draws comparison to the ways we treat people with certain disabilities today. The cyborg and robot storyline also brings up all kinds of questions about what makes a person human.

I could have done without some of the lovey-dovey bits, but it is Cinderella, so I suppose we did have to have a prince and a ball in some capacity. Other than that, a pretty solid YA read.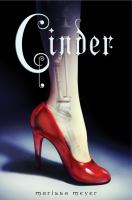 Cinder
The Lunar Chronicles
Young Adult, Romance, Fantasy
Feiwel and Friends
2012
Available in hardcover, paperback, audio and ebook formats
390
Wicked! A fresh, fierce take on Cinderella that's a little bit fairy tale, a little bit Terminator, and totally genius.