Flight – Sherman Alexie
Flight – Sherman Alexie
Flight is a story about a half native american foster kid, who has named himself after his face ache. "Zits" has struggled through the foster system since he was eight years old. He feels angry, betrayed and alone. Now Zits is fifteen, and his pattern of crime and misbehavior is about to escalate. Just as Zits attempts to rob a bank, he is transported back in time. Zits journeys thought several historical events involving Native Americans. He experiences human tragedy from the perspectives of Native Americans, those who hate them, and even his own father. When Zits finally returns to his own time, he's gained knowledge about how to let go of his anger and improve his life. 

I really enjoyed reading this book. Sherman Alexie does a great job of making his narrator a very angry, troubled and brutal, but also funny, enduring and sympathetic. I found myself really feeling and rooting for Zits throughout the book, despite his often unacceptable behavior. Also, the book did a great job of demonstrating how futile and all consuming anger and violence can be. If I had one complaint, it would be that I was not super fond of the book's ending. It seemed to me a little too unbelievable and positive considering all of the negativity and mistrust Zits feels and encounters.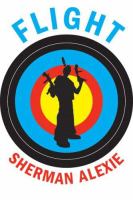 Flight
Young Adult, Fantasy, Historical Fiction
Grove Atlantic Black Cat
2007
Available in hardcover, paperback, audio and ebook formats
181 pages
The best-selling author of multiple award-winning books returns with his first novel in ten years, a powerful, fast and timely story of a troubled foster teenager — a boy who is not a "legal" Indian because he was never claimed by his father — who learns the true meaning of terror. About to commit a devastating act, the young man finds himself shot back through time on a shocking sojourn through moments of violence in American history. He resurfaces in the form of an FBI agent during the civil rights era, inhabits the body of an Indian child during the battle at Little Big Horn, and then rides with an Indian tracker in the 19th Century before materializing as an airline pilot jetting through the skies today. When finally, blessedly, our young warrior comes to rest again in his own contemporary body, he is mightily transformed by all he's seen. This is Sherman Alexie at his most brilliant — making us laugh while breaking our hearts. Simultaneously wrenching and deeply humorous, wholly contemporary yet steeped in American history, Flight is irrepressible, fearless, and again, groundbreaking Alexie.