A Heart So Fierce and Broken (Cursebreakers #2) – Brigid Kemmerer
A Heart So Fierce and Broken (Cursebreakers #2) – Brigid Kemmerer
4.5
"Must you men make everything about violence?" I say. "Not every problem can be solved by the edge of a sword."
This was SO good. Even after reading my review from A Curse So Dark and Lonely, I can't say that I remember a whole lot about the first book in this series. I remember liking it but not being completely in love. I also remember wanting to focus more on Rhen since he was the actual love interest/ part of the main couple BUT being more drawn to Grey instead. You see, Grey is my exact brand of BBF (book boyfriend). He reminded me a lot of Chaol from the Throne of Glass series and anyone who knows me, should know that he is the damaged cinnamon roll of my heart.
As much as I feel bad saying this, too, I didn't get into the book fully until after we leave Rhen and Harper in Emberfall and fully get to Grey and Lia Mara's time together. Rhen does….some pretty terrible things in this book. I don't think that they were really out of character for him for a number of different reasons however, I think there's a good chance that it's going to anger some die hard Rhen fans off when they read this…at least until they get to the epilogue.
Grey, not surprisingly, was a treat. Again, he is so like Chaol in the sense that he has this very specific sense of duty and honor and following orders without question because that's all he's done all his life. When he's inevitably found and brought back to the castle, he refuses to tell Rhen that he's the heir/the one with magic. He thinks he's keeping Rhen safe and when Rhen does a certain something that I can't say, his old and steady view of things drastically changes.
It's then that the real story begins. He ends up on a journey with Lia Mara, eldest daughter (but not heir) of the queen of Syhl Shallow, a boy named Tycho that has become quite attached to Grey, a new magical creature called a scraver that is named Iisak, and Harper's brother, Jake and boyfriend Noah round out the rag-tag group. Even though Jake annoyed me at first, he actually became a really well-rounded character.  All of them, really. I felt like I was way connected to them than half the people mentioned in book one. Lia Mara was my favorite, though. She was so smart and kind and STRONG. Like the scene where she and Grey carried that deer to the fire…that was amazing. I loved how he just basically was this cheerleader for her and held her up with kind (but always very truthful) words. He made her see the potential in herself and that she WAS smart, kind, strong, and important. Also, their romantic scenes were SO.  Swoony. I want to go back and re-read them all immediately and probably will.
Overall I think this book had a lot more development than the first. Grey's growth as a character in itself was beyond what I could have imagined. I had already been dying to see how things were going to pan out in book three but even more so after the epilogue.
"But you are far more dangerous."
I can hardly think with his fingers tracing a line down the side of my face.
"Ah, yes, the most dangerous person at the party is always the girl sitting alone with a book."
Huge thanks to NetGalley and Bloomsbury YA for allowing me to read an eARC of this book in exchange for my honest opinion.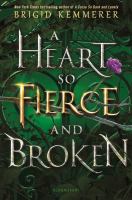 A Heart So Fierce and broken
Cursebreakers #2
Young Adult Fantasy
Bloomsbury YA
January 7th, 2020
ebook
450
Find the heir, win the crown.
The curse is finally broken, but Prince Rhen of Emberfall faces darker troubles still. Rumors circulate that he is not the true heir and that forbidden magic has been unleashed in Emberfall. Although Rhen has Harper by his side, his guardsman Grey is missing, leaving more questions than answers.
Win the crown, save the kingdom.
Rumored to be the heir, Grey has been on the run since he destroyed Lilith. He has no desire to challenge Rhen--until Karis Luran once again threatens to take Emberfall by force. Her own daughter Lia Mara sees the flaws in her mother's violent plan, but can she convince Grey to stand against Rhen, even for the good of Emberfall?
The heart-pounding, compulsively readable saga continues as loyalties are tested and new love blooms in a kingdom on the brink of war.
In the sequel to New York Times bestselling A Curse So Dark and Lonely, Brigid Kemmerer returns to the world of Emberfall in a lush fantasy where friends become foes and love blooms in the darkest of places