Meet Me on Love Lane (Hopeless Romantics #2) – Nina Bocci
Meet Me on Love Lane (Hopeless Romantics #2) – Nina Bocci
I was crying happy tears as I finished this. What a perfect example of a childhood friends-to-lovers/ kinda second chance romance. Hands down, my heart hasn't felt this full and melted in a while.
—
While I truly did enjoy the first book in this series, On the Corner of Love and Hate, that pales in comparison to this.  I was initially a tiny bit leery about the possibility of a love triangle and of the possibility that the person that I liked better might NOT being chosen. You don't have to worry about any of that. I knew it right from the prologue and was so excited to see how things were going to pan out. You see, I am constantly changing what romance trope I love best. Is it friends to lovers? Is it hate to love? It really depends on the exact situation and the specific writing and characters. While hate to love always seems to be more steamy and explosive once the couple FINALLY gets together, there is something about friends to lovers that ALWAYS takes my breath away and has my heart pounding deep within my chest. And what could make that situation even better? Well, obviously those friends having been childhood best friends, that's what.
In the beginning of this book we see Charlotte coming back to Hope Lake after a series of very unfortunate events back in NYC. She moved away when she was really young after her mom and dad's tumultuous divorce and hasn't been back since so in her mind, this homecoming is going to be short-lived and last only throughout the summer while she can get back on her feet. She ends up staying with her Gigi (who, is obviously one of my favorite characters because she's so darn sassy and scandalous and made me miss my grandma something fierce) and immediately falls back into a fast friendship with Emma. One of the most interesting parts about this book was Charlotte's memory. When she gets back to Hope Lake, she basically remembers NOTHING about her childhood there because being forced to leave had been so traumatic on her. That includes Henry. Sweet Henry. Let me tell you, characters like him are what keep me going back to romance time and time again. He's an ENGLISH TEACHER, sweet, caring, wears tight shirts, and does nice things for Gigi (like gets her secret binge-purchases sent to his house so she won't get in trouble with Charlotte's dad, lol).
Every interaction that they had together had me on the edge of my seat and had my heart in my throat. He was so tentative at first and basically heartbroken at the thought of her not remembering him or leaving him again. *sobs* And then I lost it at the end when Charlotte finds a certain something and realizes stuff because of that certain something. Seriously, tears just ah-streaming down my face the entire time. Basically all you need to know is that this book is really good and will grab you by the heart and not let go. I am so glad I got my hands on it and I can't wait for Parker and Nick's book!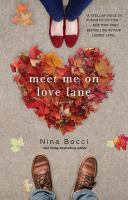 Meet Me on Love Lane
Hopeless Romantics #2
Romance
Gallery Books
December 10th, 2019
eBook
304
From the USA TODAY bestselling author of On the Corner of Love and Hate comes a romantic comedy about a woman who grudgingly returns home to small-town Pennsylvania, only to find herself falling in love—not only with the town, but with two of its citizens.
Charlotte Bishop is out of options in New York City. Fired, broke, and blacklisted by her former boss, she's forced to return to her hometown of Hope Lake, PA to lick her wounds. Although she's expecting to find a miserable place with nothing to do, she is pleasantly surprised to discover it is bustling and thriving.
She's only supposed to be in Hope Lake temporarily until she can earn enough money to move back to New York. She's not supposed to reconnect with her childhood friends or her beloved grandmother. She's not supposed to find her dream job running the local florist shop. And she's definitely not supposed to fall for not one but two of Hope Lake's golden boys: one the beloved high school English teacher, the other the charming town doctor.
With a heart torn between two men and two cities, what's a girl to do?
A perfect blend of humor and heart, Meet Me on Love Lane is the second in a new series from USA TODAY bestselling author Nina Bocci that is sure to charm fans of Josie Silver and Sally Thorne.