Pride – Ibi Zoboi
Pride – Ibi Zoboi
Pride takes Jane Austen's most popular novel "Pride and Prejudice" and places it in modern day Brooklyn. Instead of Elizabeth Bennett, we have Zuri Benitez. Zuri is a smart, no nonsense teenager with Afro-Latin roots. She has dreams of getting a college education, and doesn't intend to let romance or boys get in her way. But when the wealthy Darcy brothers move into her "hood", and her sister Janae starts to fall for one of them, Zuri's pride and patience are put to the test.
I liked a lot about this story, especially as a fan of the original Pride and Prejudice. I particularly enjoyed that, for the most part, author Ibi Zoboi really made it her own. Rich descriptions of Haitian and Dominican culture play a prominent role in the novel, standing in stark contrast to Austen's upper crust britishness.  Zuri is a talented poet and her beautiful words gives a depth and individuality that make her stand out from other Lizzy Bennets we've seen or read before.  Zoboi also includes themes of poverty, class, and neighborhood gentrification in her retelling, which set the story firmly in its modern day Brooklyn setting. I found all these elements very enjoyable, it really held onto the spirit of the original story, but in a way that was new, relevant and exciting.  There were a few moments that felt clunky, where I felt the characters were only behaving a certain way because it was a retelling. But, ultimately, the heart and feel of P&P is in this love story without relying too much on specific plot points from the original.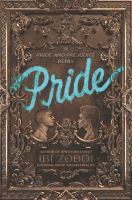 Pride
Young Adult, Romance
HarperCollins
Available in hardcover, paperback, audio and ebook formats
289
Zuri Benitez has pride.
Brooklyn pride, family pride, and pride in her Afro-Latino roots. But pride might not be enough to save her rapidly gentrifying neighborhood from becoming unrecognizable.
When the wealthy Darcy family moves in across the street, Zuri wants nothing to do with their two teenage sons, even as her older sister, Janae, starts to fall for the charming Ainsley. She especially can't stand the judgmental and arrogant Darius. Yet as Zuri and Darius are forced to find common ground, their initial dislike shifts into an unexpected understanding.
But with four wild sisters pulling her in different directions, cute boy Warren vying for her attention, and college applications hovering on the horizon-Zuri fights to find her place in Bushwick's changing landscape or lose it all.
In this timely update of Jane Austen's Pride and Prejudice, critically acclaimed author Ibi Zoboi skillfully balances cultural identity, class, and gentrification against the heady magic of first love in her vibrant reimagining of this beloved classic.