Where'd You Go, Bernadette (Semple)
Where'd You Go, Bernadette (Semple)
Bernadette Fox was a brilliant architect, but when things don't quite go her way in L.A., she persuades her husband to take a job with Microsoft and moves her family to Seattle.  But Bernadette doesn't really like Seattle, she doesn't seem to really like much about life … she tries to avoid contact with people at all costs.  Bernadette dislikes dealing with people so much, that when their daughter Bee requests a family trip to Antarctica as a reward for her good grades, Bernadette hires an "internet assistant" to start running her errands and do all the preparation for the trip.  This proves to be a big mistake as her "internet assistant", Manjula Kapoor, turns out to be part of an internet identity theft ring.  When everything comes to a head, and Bernadette's husband stages an intervention to get his wife help for her issues, Bernadette disappears.  Will Bernadette be found?  Read or listen to this funny novel to find out!
I listened to the audiobook version available through the Overdrive/Libby app and I enjoyed it quite a it.  There are several literal "laugh-out-loud" moments, but reader/listener beware, if you are sensitive to foul language, this may not be the book for you.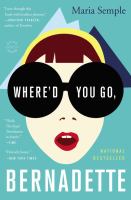 Where'd You Go, Bernadette
Literary Fiction
Little, Brown and Company
August 14, 2012
print, ebook, audiobook
330
Bernadette Fox has vanished.
When her daughter Bee claims a family trip to Antarctica as a reward for perfect grades, Bernadette, a fiercely intelligent shut-in, throws herself into preparations for the trip. But worn down by years of trying to live the Seattle life she never wanted, Ms. Fox is on the brink of a meltdown. And after a school fundraiser goes disastrously awry at her hands, she disappears, leaving her family to pick up the pieces--which is exactly what Bee does, weaving together an elaborate web of emails, invoices, and school memos that reveals a secret past Bernadette has been hiding for decades. Where'd You Go Bernadette is an ingenious and unabashedly entertaining novel about a family coming to terms with who they are and the power of a daughter's love for her mother.