Walk on Earth a Stranger – Rae Carson
Walk on Earth a Stranger – Rae Carson
Historical Fiction meets Western meets Magical Realism in this fantastic YA tale about Leah Westfall, a girl who can sense gold in the ground. Leah is a hardworking and adventures protagonist, who is forced run way from all she's ever know, when her sinister uncle murders her parents and becomes her legal guardian. Lucky for Leah, she is living during the California gold rush. So she disguises herself as a boy (Lee) and heads for California; Gold or bust!
For me, this book hit all the right marks. I love how strong and brave Lee/Leah is, she reminds me of Matty Ross, the protagonist in my favorite western novel, True Grit. Reading her story makes me want to go out and shoot a deer or ride bareback on a horse (2 things I can promise you I would fail miserably at).
I also love how the magical gold sense is described in the story, as a sweet tickle in the back of the throat whenever gold is nearby. The magic in this story is used sparingly, we don't meet any other magical or "witchy" characters and Leah only uses her powers in a few situations within the story. To me, that made it seem so much more authentic and special, to have a little dribble of magic admits an otherwise very un-magical adventure story.
Over all, I loved almost everything about this book and would recommend it to pretty much everybody.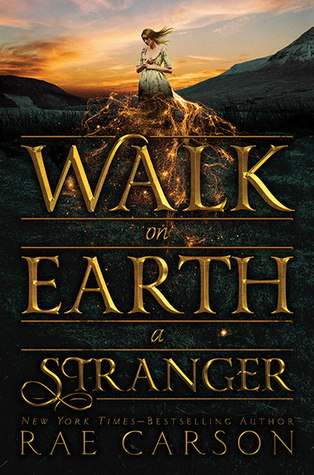 Walk on Earth a Stranger
Gold Seer Trilogy
Young Adult, Western, Magical Realism
Greenwillow Books
2015
Hardcover
436
Lee Westfall, a young woman with the magical ability to sense the presence of gold, must flee her home to avoid people who would abuse her powers, so when her best friend Jefferson heads out across Gold Rush-era America to stake his claim, she disguises herself as a boy and sets out on her own dangerous journey.