The Phantom Tollbooth – Norton Juster
The Phantom Tollbooth – Norton Juster
The Phantom Tollbooth is a children's modern fairy tale about a bored young boy named Milo who unexpectedly receives a magic tollbooth one afternoon and, having nothing better to do, decides to drive through it in his toy car. The tollbooth transports him to a land called the Kingdom of Wisdom. There he acquires two faithful companions, has many adventures, and goes on a quest to rescue the princesses of the kingdom–Princess Rhyme and Princess Reason–from the castle of air. The text is full of puns, and many events, such as Milo's jump to the Island of Conclusions, exemplify literal meanings of English language idioms.
As a lover of puns and word play, I thought this book was engaging, fun and witty. I found myself annotating in the margins, with a dictionary by my side to look up all the idioms and multiple meanings used within the text. If I have any complaints, it would be that at times the book seemed to be teaching lessons to readers, warning about boredom and apathy. Most of the time I agreed with the books "think for yourself, and don't be lazy" message, but even so It felt slightly pushy. Despite this, I really enjoyed the book and would recommend it.
I would especially recommend this book to children who enjoy reading. I think they would relate to the puns and love of literature that the book presents. I also think it might encourage readers who may be bored or unchallenged in school to apply themselves.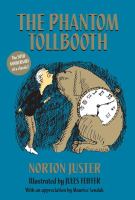 The Phantom Tollbooth
Children's Classics, Fantasy
Random House Bullseye Books
1961
Hardcover
255
Essential Modern Classics are relaunched in gorgeous new covers bringing these timeless story to a new generation.
Milo's extraordinary voyage takes him into such places as the Land of Expectation, the Doldrums, the Mountains of Ignorance and the Castle in the Air. He meets the weirdest and most unexpected characters (such as Tock, the watchdog, the Gelatinous Giant, and the Threadbare Excuse, who mumbles the same thing over and over again), and, once home, can hardly wait to try out the Tollbooth again. But will it be still there when he gets back from school?
This new edition of Norton Juster's classic story includes a special "Why You'll Love This Book" introduction by award-winning author, Diana Wynne Jones.