Red, White & Royal Blue – Casey McQuiston
Red, White & Royal Blue – Casey McQuiston
Thinking about history makes me wonder how I'll fit into it one day, I guess. And you too. I kinda wish people still wrote like that. History, huh? Bet we could make some.
I'm just going to hit the ground running here by saying that this is now one of my favorite books of all time. I honestly don't even know how I'm supposed to review this?? Other than to just do my usual fangirl flail and hope I properly can get my feelings across to all of you about this wonderful, beautiful book.
The first thing you guys need to know to get into the proper mind frame for this book is that it's based in an America that, instead of having Donald Trump as our 45th president, we have a woman named Ellen Claremont who has two children, Alex and June, who are biracial. Alex is our local FSOTUS prince charming and is "mortal enemies" with another prince charming across the pond in England, named Henry. HENRY.  Henry is THE EPITOME of a SMOL cinnamon roll who is too. Good. For. This. Earth. You can even quote me on that. Their relationship together is….so good you guys. They start out as "enemies," become tentative friends, to best friends, to….so so so much.
The cast of supporting characters is just as good. June, Nora, Pez, LITERALLY EVERYONE is amazing. I love June and Alex's relationship, and their friendship with Nora, and Henry and Pez, too. I just want them all in my real life and would karaoke with any of them, any time.
It's really hard for me to believe that this is McQuiston's first book. Her writing was ADDICTING. Her story, dialogue, characters—all of it. I have already put her on an auto-read/buy list because of this book. I don't even know how to express how happy this book made me. On the first day that I read a huge chunk I literally walked around all day with a huge, stupid smile on my face that wouldn't leave for anything. I finished the book and felt so light. My heart was ten times bigger than it was when I started. I told one of my friends who has also read it, that it's one of those books where after you've read it you just know that your life had been missing out on something and you didn't even know it until right at that second when you finish. It just has everything. It has great LGBTQIA rep, it has a world in which we have the first female president, it has politics (both American and English), it has people struggling with their identities in a hundred of different ways that the average person can relate to, it has sexy e-mails, it has FAMILY, and it has one of the greatest, sweetest love story I've ever read. What more could you ever ask for? Please please PLEASE, I'm down on my knees, begging you to read this book once it comes out. You won't regret it.
June plucks away at "Annie's Song," you fill up my senses like a night in a forest, and the breeze keeps moving to meet the highest branches of the trees, and the water keeps rising to meet the bulkheads, and Henry leans down to meet Alex's mouth, and Alex is. Well, Alex is so in love he could die.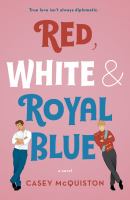 Red, White & Royal Blue
Romance, New Adult
St. Martin's Griffin
May 14th, 2019
Print
423
A big-hearted romantic comedy in which First Son Alex falls in love with Prince Henry of Wales after an incident of international proportions forces them to pretend to be best friends...
First Son Alex Claremont-Diaz is the closest thing to a prince this side of the Atlantic. With his intrepid sister and the Veep's genius granddaughter, they're the White House Trio, a beautiful millennial marketing strategy for his mother, President Ellen Claremont. International socialite duties do have downsides—namely, when photos of a confrontation with his longtime nemesis Prince Henry at a royal wedding leak to the tabloids and threaten American/British relations.
The plan for damage control: staging a fake friendship between the First Son and the Prince. Alex is busy enough handling his mother's bloodthirsty opponents and his own political ambitions without an uptight royal slowing him down. But beneath Henry's Prince Charming veneer, there's a soft-hearted eccentric with a dry sense of humor and more than one ghost haunting him.
As President Claremont kicks off her reelection bid, Alex finds himself hurtling into a secret relationship with Henry that could derail the campaign and upend two nations. And Henry throws everything into question for Alex, an impulsive, charming guy who thought he knew everything: What is worth the sacrifice? How do you do all the good you can do? And, most importantly, how will history remember you?