Marilla of Green Gables (Sarah McCoy)
Marilla of Green Gables (Sarah McCoy)
I really enjoyed this novel telling the story of Marilla (and Matthew) as they grew up at Green Gables. I felt the author did a very nice job of telling a story that seemed to mesh nicely with the well-loved Anne of Green Gables series by L.M. Montgomery.  I appreciated that the author pulled in enough details from the original series to make it believable and didn't try to change things about the story.  Reading this makes me want to go back and re-read the entire Anne of Green Gables series!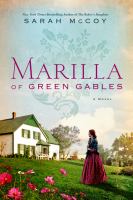 Marilla of Green Gables
Fiction
William Morrow
October 23, 2018
Available in hardcover, eBook and audiobook formats.
320 pages
New York Times best-selling author McCoy takes us to Green Gables before Anne's time, when Marilla Cuthbert inherits a farmwife's responsibilities at age 13 with her mother's death. But she connects to the outside world through a whip-smart spinster aunt in the city of St. Catharines.