A Knight of the Seven Kingdoms – George R.R. Martin
A Knight of the Seven Kingdoms – George R.R. Martin
If your a fan of Game of Thrones, either the HBO television show or the A Song Of Ice And Fire books that inspired it, you will really enjoy this companion series!
100 years before the events of the first A Song of Ice and Fire novel, we meet humble hedge knight, Dunk (Sir Duncan the Tall) and his sharp tongued Squire, Egg (Aegon V Targaryen). There are currently 3 short stories in this series that chronicle the adventures of Dunk and Egg; The Hedge Knight, The Sworn Sword and The Mystery Knight, all three of which make up this anthology.
What a wonderful peak into the world before A Song of Ice and Fire this was for me, as I am a big fan. I really enjoyed reading these stories, and was amazed to have finished 3 entire George RR Martian stories in the span of a weekend! (Normally it takes me a month or more!) The shortness and simplicity of these stories made them really unique. It was delightful to be able to breeze through a story about Westeros. A Knight of the Seven Kingdoms is a breath of fresh air in comparison to the main series. It was nice to have a clearly good and noble protagonist, a straightforward hero, who struggles but always wins out in the end.
Overall, this little series is great for everyone. Book and show fans will enjoy revisiting a familiar tale. Readers new to the series can enjoy it as well, as the story holds its own and would be enjoyable even if you did not know about the main series.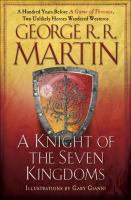 A Knight of the Seven Kingdoms
The Tales of Dunk and Egg
Fantasy, Fiction, Short Stories
Bentam Boks
2013
Available in hardcover, paperback, audio and ebook formats
355 (hardcover)
A century before A GAME OF THRONES, two unlikely heroes wandered Westeros…
A KNIGHT OF THE SEVEN KINGDOMS compiles the first three official prequel novellas to George R.R. Martin's ongoing masterwork, A SONG OF ICE AND FIRE.
Before Tyrion Lannister and Podrick Payne there was Dunk and Egg.
A young, naïve but courageous hedge knight, Ser Duncan the Tall towers above his rivals – in stature if not experience. Tagging along with him is his diminutive squire, a boy called Egg – whose true identity must be hidden from all he and Dunk encounter: for in reality he is Aegon Targaryen, and one day he will be king. Improbable heroes though they be, great destinies lie ahead for Dunk and Egg; as do powerful foes, royal intrigue, and outrageous exploits.
A KNIGHT OF THE SEVEN KINGDOMS brings together for the first time the first three official prequel novellas to George R.R. Martin's ongoing masterwork, A SONG OF ICE AND FIRE, set in an age when the Targaryen line still holds the Iron Throne, and the memory of the last dragon has not yet passed from living memory.
Featuring more than 160 illustrations by Gary Gianni, one of the finest fantasy artists of our time, this beautiful volume will transport readers to the world of the Seven Kingdoms in an age of bygone chivalry.