A BOOK REVIEW BY KIDS FOR KIDS: The Maze of Bones
A BOOK REVIEW BY KIDS FOR KIDS: The Maze of Bones
The Maze of Bones – Rick Riordan
Here at the library we have a book club for 4th and 5th grade students called Pizza and Pages. Our latest read was "The Maze of Bones". Here is what the kids had to say about this book:
This book had lots of deadly parts and mortal danger, which is something we really liked. We also liked that the main characters, Amy and Dan, got to visit an arsonal room as they were solving the clues in the story. Our least favorite part was when Amy and Dan's grandmother died and her mansion got set on fire.
In this story, the grandmother changes her will before she dies.  We agreed that in our wills, we would include our moms, dads, baby brother, friends and maybe some people from facebook. But the grandma in the story does something different, she gives Dan and Amy a choice. They can inherit a millions dollars , or get a clue that leads them on an adventure to find power, wealth and family secrets.
Dan and Amy picked the adventure, but we were not so sure. Most of us would have taken the money instead. Then we could buy an Iron Man suit that could do the floss dance or a Nintendo switch. We would also want to give one quarter of the money to charity.
We really liked grandma in this story, she was our favorite character because she was rich and adventurous. But, we agreed that we liked our own grandmothers better. They may not be secret CIA agents, but they make us candy and buy us things. We love them alot.
If you liked The Candy Shop War, or the Five Kingdoms series by Brandon Mull, you will like this book.
If you are interested in joining Pizza and Pages, we meet on the second Thursday of every month at 4:30. You can check out our website or call 989.773.3242 for more information or to register for an upcoming meeting.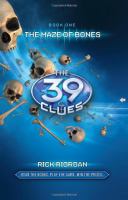 The Maze of Bones
The 39 Clues
Mystery, Adventure, Children's>Middle Grade Fiction
Scholastic
January 1st 2008
Available in hardcover, paperback, audio and ebook formats
220 (hardcover)
Minutes before she died Grace Cahill changed her will, leaving her descendants an impossible decision: You have a choice - one million dollars or a clue.
Grace is the last matriarch of the Cahills, the world's most powerful family. Everyone from Napoleon to Houdini is related to the Cahills, yet the source of the family power is lost. 39 clues hidden around the world will reveal the family's secret, but no one has been able to assemble them. Now the clues race is on, and young Amy and Dan must decide what's important: hunting clues or uncovering what REALLY happened to their parents.