The Rosie Project (Simsion)
The Rosie Project (Simsion)
Don Tillman is a genetics professor … who is also has Asperger's … yet he doesn't seem to know that.  Professor Tillman has decided he wants to get married, so he begins "The Wife Project".  He constructs a very thorough questionnaire to screen potential candidates, and when he first meets Rosie  he immediately decides she is not a suitable candidate, but over the course of the novel, he ends up realizing, she is actually the perfect candidate!  A fun story, but beware, there is frequently adult language.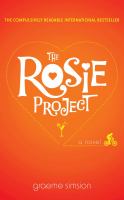 The Rosie Project
Don Tillman
Literary Fiction
Simon & Schuster
January 30, 2013
Available in hardcover, paperback audio and eBook formats.
297 pages
The Rosie Project is a classic screwball romance. Socially awkward genetics professor, Don Tillman has given up on love. Until a chance encounter gives him an idea. He will design a questionnaire-a sixteen-page, scientifically researched questionnaire-to uncover the perfect partner.