Circe – Madeline Miller
Circe – Madeline Miller
In high school, when I was required to read Homer's Odyssey, Circe was just one of the island goddesses whose name I could barely remember. But through this retelling she has become one of my favorite characters in Greek myth.
For this story, Author Madeline Miller has woven together many of the different Greek myths involving Circe into one compelling story told from her perspective.  It was rather enchanting to be reading about a character who has the power, magic and immortality of a god, but also the familiar flawed nature of a human. Overall, a wonderful read that I would recommend it to almost anyone, particularly fans of character driven fiction, myth, fantasy and historical fiction.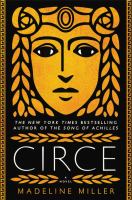 Circe
Fantasy, Mythology, Historical Fiction, Classic Retelling
Lee Boudreaux Books
April 10th 2018
Available in hardcover, paperback, audio and ebook formats
394 (hardcover)
In the house of Helios, god of the sun and mightiest of the Titans, a daughter is born. But Circe is a strange child—not powerful, like her father, nor viciously alluring like her mother. Turning to the world of mortals for companionship, she discovers that she does possess power—the power of witchcraft, which can transform rivals into monsters and menace the gods themselves.
To protect what she loves most, Circe must summon all her strength and choose, once and for all, whether she belongs with the gods she is born from, or the mortals she has come to love.