The Library at the Edge of the World (Felicity Hayes-McCoy)
The Library at the Edge of the World (Felicity Hayes-McCoy)
This book was good, but not great. I for the most part enjoyed it, but not as much as I wanted too.
Of course the title was what first drew me to this title, and then when I read some of the reviews and they said things like "reminiscent of Maeve Binchy" I thought I would love it …. I really like Maeve Binchy's books.
Aside from the fact that it was set in Ireland and Maeve Binchy was mentioned in the book, I didn't see that many similarities to Binchy's books.
The main character of this book somewhat annoyed me at times, BUT perhaps that was the author's intent, and by the end of the book, she did seem to have a bit of an attitude change. In the beginning she didn't want people to linger in the library … she seemed to actually discourage use of the library for anything other than running in to get a book and leaving straight away. This goes against everything most librarians I know strive for in their libraries today.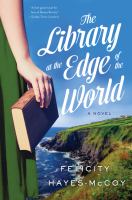 The Library at the Edge of the World
Finfarran Peninsula #1
Contemporary Fiction
Harper Perennial
November 14, 2017
Audiobook (Hoopla)
368 pages (9 hours, 43 minutes)
As she drives her mobile library van between villages of Ireland's West Coast, Hanna Casey tries not to think about a lot of things. Like the sophisticated lifestyle she abandoned after finding her English barrister husband in bed with another woman. Or that she's back in Lissbeg, the rural Irish town she walked away from in her teens, living in the back bedroom of her overbearing mother's retirement bungalow. Or, worse yet, her nagging fear that, as the local librarian and a prominent figure in the community, her failed marriage and ignominious return have made her a focus of gossip.
With her teenage daughter, Jazz, off traveling the world and her relationship with her own mother growing increasingly tense, Hanna is determined to reclaim her independence by restoring a derelict cottage left to her by her great-aunt. But when the threatened closure of the Lissbeg Library puts her personal plans in jeopardy, Hanna finds herself leading a battle to restore the heart and soul of the Finfarran Peninsula's fragmented community. And she's about to discover that the neighbors she'd always kept at a distance have come to mean more to her than she ever could have imagined.