Masquerade (Moser)
Masquerade (Moser)
The ending and how each of the two main characters decided to live out their lives in America seemed rather abrupt and rushed, but overall a good story.  The author includes some extra information about some of the people, places and fashion at the end of the book that was rather interesting.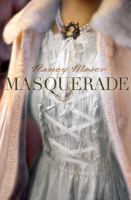 Masquerade
Christian Fiction
Bethany House Publishers
August 1, 2010
Trade paperback
400
1886, New York City: Charlotte Gleason, a rich heiress from England, escapes a family crisis by traveling to America in order to marry the even wealthier Conrad Tremaine. She soon decides that an arranged marriage is not for her and persuades her maid, Dora, to take her place. What begins as the whim of a spoiled rich girl wanting adventure becomes a test of survival amid poverty beyond Charlotte's blackest nightmares.
As for Dora, she lives a fairy tale complete with gowns, jewels, and lavish mansions--yet is tormented by guilt and the presence of another love that will not die. Will their masquerade be discovered? Will one of them have second thoughts? There is no guarantee the switch will work. It's a risk. It's the chance of a lifetime.