Tortall: A Spy's Guide – Tamora Pierce
Tortall: A Spy's Guide – Tamora Pierce
This is SO GOOD. I can't even express to you all how excited I was when this showed up on my door step (I put a hold on it but the copy I had purchased showed up before the library's copy!). Tamora Pierce and all of her books set in Tortall are THE reason why I got into young adult fantasy in the first place. I devoured each and every book and I still treasure them today. I mean, I think you can accept that a set of characters have had an impact on you when you are going through something scary or hard and the first think that pops into your mind are "Alanna became a lady knight without anyone knowing she was a girl" or "Kel became a lady knight WITH people knowing she was a girl and having to face those prejudices…if they can do that you can do anything, Arielle." I know that when I give birth in April I will be thinking about them and their strength–who cares if they're fictional.
I'm not even kidding, either. Even if it's something little, I think about how Alanna passed out when getting her ears pierced and calm down. I swear I wouldn't be the person I am today without having read about these strong and amazing heroines AND with getting all these extra little tidbits and glimpses into their lives, I died. You don't even know how many times my sister and I tried making our own timeline of events between all of the books and then here this is book with an official one. It made my entire month.  If you've loved any of Pierce's book set in the world of Tortall, I would immediately pick this one up.  We see different things like letters from the Spymaster, George, to his daughter, Aly.  We see little notes from Alanna to George about her last pregnancy.  There are maps, character profiles, so many wonderful insights from all of her previous books.  It was a blast reading through it all and I cannot wait until her next series about Numair comes out next year!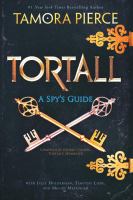 Tortall: A Spy's Guide
YA, Fantasy
Random House Books for Young Readers
October 31, 2017
Print
320
The secrets of Tortall are revealed. . . .
As Tortall's spymaster, George Cooper has sensitive documents from all corners of the realm. When Alanna sends him a surprising letter, he cleans out his office and discovers letters from when King Jonathan and Queen Thayet first ascended the throne, notes on creating the Shadow Service of spies, threat-level profiles on favorite characters, Daine's notes on immortals, as well as family papers, such as Aly's first report as a young spy and Neal's lessons with the Lioness. This rich guide also includes the first official timeline of Tortallan events from when it became a sovereign nation to the year Aly gives birth to triplets. Part history, part spy training manual, and entirely fascinating, this beautiful guide makes a perfect gift and is ideal for anyone who loves Alanna, King Jonathan, Queen Thayet, Kel, Neal, Aly, Thom, Daine, Numair, and the unforgettable world of Tortall!