Will & Whit – Laura Lee Gulledge
Will & Whit – Laura Lee Gulledge
Will & Whit is a graphic novel based on the daily life of a young girl named Wilhelmina (Will for short). She builds lamps made of old and new things, is scared of the dark and her shadows, and lives with her Aunt Ella. The story is focused around Will and her two friends as they deal with a power outage in their small town due to a huge storm named Whitney (Whit). In that time a group of young people in the neighborhood want to throw together a carnival. There are elements of romance, creativity, and bravery throughout the book. Eventually Will needs to make the decision to overcome her fear of the dark and accept her parents' death.
I really thought this book was quite amazing. The story line itself had a really good message about Will bravely overcoming her fear of the dark and moving on past her parents' death. She had strong relationships with her two friends and her aunt, who all helped her overcome her fear by letting her know they were there for her no matter what.
The illustrations did a great job of helping to tell the story. After the power went out in Will's town, the paper becomes black behind the illustration panes along with the illustrations becoming darker themselves. It mirrors not only the power outage but Will's fear of the dark and her sadness over losing her parents. When she finally overcomes her fear and gains hope and closure, the pages become white again and the illustrations become lighter. There also were a few pop culture references (like one from Doctor Who!) that I really enjoyed and appreciated.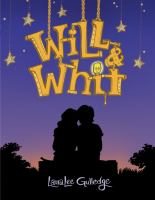 Will & Whit
YA Graphic Novel
Amulet Paperbacks
May 7th, 2013
Print
192
Wilhelmina "Will" Huckstep is a creative soul struggling to come to terms with a family tragedy. She crafts whimsical lamps, in part to deal with her fear of the dark. As she wraps up another summer in her mountain town, she longs for unplugged adventures with her fellow creative friends, Autumn, Noel, and Reese. Little does she know that she will get her wish in the form of an arts carnival and a blackout, courtesy of a hurricane named Whitney, which forces Will to face her fear of darkness.
Laura Lee Gulledge's signature visual metaphors will be on full display in this all-new graphic novel, a moving look at shedding light on the dark corners of life.