The Book Thief – Markus Zusak
The Book Thief – Markus Zusak
In the time of Hitler and the Nazi Youth of Germany, Death is preparing itself. Within the next few years war will rage and many, many people will die. In the midst of preparing for the upcoming onslaught, Death finds itself caught up in the life of the Book Thief. Liesel Meminger, later officially earning the title of Book Thief, finds her first book on the same day that she sees her little brother die. Both of these events will change the course of her life forever. Immediately after her brother's death she is sent to live in the small town of Mulching where she will create deep bonds with her foster parents, a young man named Rudy, and a fighting Jew. She will grow and thrive in a world of danger and death, but also of books and hope.
There was nothing about this book that I didn't love. The language throughout the entire book was so beautifully crafted that it just drew me in immediately. It was such an interesting idea for Markus Zusak to make Death the narrator as I have never read a book like that before. This Death character was also not what I would have expected. Death feels and thinks and sees these beautiful colors wherever it goes. The character was humorous and not depressing and sad like a figure of death usually is. This perspective of narrator also gave the reader insight on who was going to die from the very beginning which I liked (in this particular case). Usually, I am the person who ruins the book for myself anyway by reading the last page first, but in this case I didn't have to. I personally think that by doing that, I was able to appreciate every moment spent with each of the characters more than I would have if I didn't know they were going to die. That way I felt very strong connections with each of the characters and honestly felt like I could have lived in Mulching with Liesel, Rudy, and Hans Hubermann.
Another aspect of this book that I really liked was how the story took place in Nazi Germany. Although historical fiction isn't my favorite, I have read and really enjoyed several books based around the Holocaust and WWII. Before the Book Thief though, the perspective of all of those books have been from that of the Jewish people and had painted all Germans as terrible Nazis. In this book, you realize that that is not the case, and that there were people within Nazi Germany that risked their lives to protect Jews and didn't agree with Hitler's ideals. There definitely were a few kernels of hope to be seen in mankind in this book and I love that Liesel drew hope from books and literacy.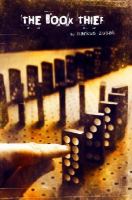 The Book Thief
Historical Fiction
Knopf Books for Young Readers
May 14th, 2006
Print
552
It's just a small story really, about among other things: a girl, some words, an accordionist, some fanatical Germans, a Jewish fist-fighter, and quite a lot of thievery. . . .
Set during World War II in Germany, Markus Zusak's groundbreaking new novel is the story of Liesel Meminger, a foster girl living outside of Munich. Liesel scratches out a meager existence for herself by stealing when she encounters something she can't resist–books. With the help of her accordion-playing foster father, she learns to read and shares her stolen books with her neighbors during bombing raids as well as with the Jewish man hidden in her basement before he is marched to Dachau.
This is an unforgettable story about the ability of books to feed the soul.