Lady Midnight – Cassandra Clare
Lady Midnight – Cassandra Clare
Okay. Wow. I don't even know where to begin honestly. I have been a big fan of the Shadowhunter world from day one. I fell in love with Clary, Jace and the NY crew in The Mortal Instruments and was even more impressed with Tessa, Will, and Jem in The Infernal Devices. While I have slight problems with some of the books, I have read, re-read, and recommended them all over and over again. This book as the start of a new series was no exception.
I want to first say that even though I think I will always relate the most with Tessa for numerous reasons, Emma is now my #1 favorite lead. She's strong, witty, is fully confident in her role in the Shadow realm, and she is basically just amazing. Julian. Oh my poor Jules. I saw people complaining about how they weren't going to read this series because Julian was just going to be another Jace and Will and that it was getting too repetitive. I AM HERE TO TELL YOU OTHERWISE The only thing that Julian has in common with those two troublemakers is that he loves just as passionately as they do. Otherwise he is a lot softer–not weak, but just soft-hearted. He has fathered his younger siblings since he was twelve years old and as we find out, he has taken care of so much more than that. Christina, a second female lead, is amazing, is an excellent friend for Emma, and is a buffer for Mark after he comes back from the Faerie lands. Can I just say that I am just so in love with all of the Blackthornes?! Because I am. This whole family has stolen my heart. I cannot even put into words how much I already love them all and want good things for them–especially Ty.
As for the story line–it is also AMAZING. I knew that the story was based on the poem of Annabel Lee but I had no idea that it was going to turn out how it did.  No spoilers here but I'll tell you it's heart-wrenching. ARGH. Luckily I have my hands on Lord of Shadows, the second book in the series. Even though up to this point I have love TID the best, I think this might surpass it. Especially with Emma and Julian. How they love each other. I am so nervous for how that will pan out, I really am. Like my heart already had a huge crack in it for them by the end.
As I mentioned before, there were a few problems here or there that mostly deal with me being frustrated with Clare for starting too many series at the same time but other than that–this was pure gold. I cannot wait to get into book two.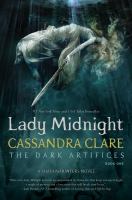 Lady Midnight
The Dark Artifices, #1
YA Fantasy
Margaret K. McElderry Books
March 8th, 2016
Print
698
In a kingdom by the sea…
In a secret world where half-angel warriors are sworn to fight demons, parabatai is a sacred word.
A parabatai is your partner in battle. A parabatai is your best friend. Parabatai can be everything to each other—but they can never fall in love.
Emma Carstairs is a warrior, a Shadowhunter, and the best in her generation. She lives for battle. Shoulder to shoulder with her parabatai, Julian Blackthorn, she patrols the streets of Los Angeles, where vampires party on the Sunset Strip, and faeries—the most powerful of supernatural creatures—teeter on the edge of open war with Shadowhunters. When the bodies of humans and faeries turn up murdered in the same way Emma's parents were when she was a child, an uneasy alliance is formed. This is Emma's chance for revenge—and Julian's chance to get back his brother Mark, who is being held prisoner by the faerie Courts. All Emma, Mark, and Julian have to do is solve the murders within two weeks…and before the murderer targets them.
Their search takes Emma from sea caves full of sorcery to a dark lottery where death is dispensed. And each clue she unravels uncovers more secrets. What has Julian been hiding from her all these years? Why does Shadowhunter Law forbid parabatai to fall in love? Who really killed her parents—and can she bear to know the truth?
The darkly magical world of Shadowhunters has captured the imaginations of millions of readers across the globe. Join the adventure in Lady Midnight, the long-awaited first volume of a new trilogy from Cassandra Clare.