Breathe, Annie, Breathe – Miranda Kenneally
Breathe, Annie, Breathe – Miranda Kenneally
"You need anything? Water? Tylenol? Vaseline?"
"Vaseline?" He shrugs. "Yeah, for chafing. Are you having any issues?"
The main character of this story is Annie. After her boyfriend (Kyle) of three years, the boy that she planned on marrying someday, dies in an accident, she decides to train for the marathon that he never got to run. She herself had never been a runner so this huge race that is difficult for even the most in-shape runner, seemed almost impossible. Luckily, Annie had the good sense to get a trainer, Matt, to help her on her journey **Side note, I know that he was in a previous Hundred Oaks book, but this is the first book by Miranda Kenneally that I have read.** Pretty soon off the bat we also meet Matt's brother, Jeremiah, who is working for Matt. On a run towards the beginning of Annie's training, when she is still struggling with the longer distances, this crazy kid with crazy hair whips by her, running backwards. Annie silently names him Running Backwards Boy and thinks he must be crazy. The two form a relationship that begins as a tenuous thing and turns into much, much more. They have crazy chemistry right from the start, and you can't help but cheer for the crazy, sweet, adrenaline junky of a boy.
A quarter mile more. One foot after the other. Breathe, Annie, breathe.
This is the second book revolving around a main character who has experienced the loss of a loved one that I have read in the past week. While the other one was all drama, this one was all about Annie's journey. There were times where she would start thinking whatifwhatifwhatif, but what happened to Kyle was purely an accident. There was nothing she could have done. I thought that her grief and healing were handled very well. She dated this guy for three years. Three years. When you are with someone for that long they become your whole life. You are each other's best friends and you can practically know what the other person is thinking just by looking at them. I thought it was a beautiful thing that Annie wanted to do this one huge thing for Kyle. It was something that would require so much strength and will and determination. What an amazing thing to do in someone's memory.
Anything can happen. Anything. Anytime, to anyone. We have to live now. Now, now, now.
I thought the romance in this book was of the sweetest sorts. Jeremiah, ohhhh that boy is a wonder. He is not without his faults of course. Being an adrenaline junkie, he has put strain on the relation he has with his family, and eventually (for a time) with Annie because of how worried they were about him continuously hurting himself. Annie especially had problems with it because obviously she had already gone through losing one love and for a while didn't even want to get that close to Jeremiah because of it. He won her over in the end though and I was so happy. He was so supportive. His attention and affection never wavered for one second. He promised to wait for her for as long as she needed and help up to that promise!
It was just overall a really good book. For those of you who have read other reviews of mine, you probably know by now that my favorite books are the kinds that have you feeling something. This one had me grieving with Annie, healing with Annie, and falling in love with Jeremiah, just like Annie.  Overall, this is just a super sweet read. I definitely plan on checking out some of Kenneally's other books in this series.
I'll never forget you.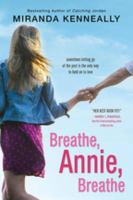 Breathe, Annie, Breathe
Hundred Oaks
YA Contemporary
Sourcebooks Fire
July 15, 2014
eBook
306
From the bestselling author of Catching Jordan comes a contemporary YA you won't forget.
The finish line is only the beginning.…
Annie hates running. No matter how far she jogs, she can't escape the guilt that if she hadn't broken up with Kyle, he might still be alive. So to honor his memory, she starts preparing for the marathon he intended to race.
But the training is even more grueling than Annie could have imagined. Despite her coaching, she's at war with her body, her mind-and her heart. With every mile that athletic Jeremiah cheers her on, she grows more conflicted. She wants to run into his arms...and sprint in the opposite direction. For Annie, opening up to love again may be even more of a challenge than crossing the finish line.