The Star-Touched Queen – Roshani Chokshi
The Star-Touched Queen – Roshani Chokshi
Father didn't seem to believe in horoscopes. He spoke of destiny as a malleable thing, something that could be bent, interpreted or loosened to any perspective.
I've been wobbling between a 3.5 and a 4 for this book. On one hand, Chokshi's beautifully lyrical writing is what always has the ability to stir something inside of me. Not only that but the premise of this, which reminded me of Daughter of Smoke and Bone by Laini Taylor, had me clinging to the story from the very beginning. But…on the other hand, after I was done with the book I just kind of sat there and replayed everything that had happened and just felt like there wasn't quite enough, you know?
When I looked at him, something stirred inside me. It felt like recognition sifted through dreams; like the moment before waking—when sleep blurred the true world, when beasts with sharp teeth and beautiful, winged things along the edges of your mind.
That's not to say I didn't still truly like this book though. Maya and Amar had my heart skipping a beat on a few different occasions. While it might seem like a typical YA romance where they feel these things for each other too fast, you soon learn that theirs is a love that spans lifetimes. This in fact is where I think I wanted more. I get for the sake of the story and intrigue that we don't get to find out what exactly they meant to each other right away or how Maya ended up where she did, I just wasn't entirely satisfied with what we found out in the end. I wanted to hear more about these other lifetime, more about why she left. This is a case where I felt like I was in the dark but wasn't okay with it.
Beside Gauri, magic thrummed in my veins and I believed, after so long, that perhaps we really could be the things we dreamed of—dancing bears or twin sea dragons with tails made for ensnaring oceans. But now I knew that it wasn't the magic of past stories that made me feel this way. It was the same thing I recognized in Naraka but could not name. Love. Impossible love.
BUT it's fine. It really is. I really haven't read many books (if any) that draw from Indian folklore and that really pulled my interest. Really any kind of folklore has always been something to intrigue me because so much of it is still not familiar to me. In any case I still would highly recommend this book to anyone who likes fantasy, folklore, and beautiful writing and I need book two LIKE NOW.
"What should we do, jaani?"
"Restore the light," I said.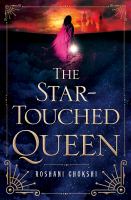 The Star-Touched Queen
The Star-Touched Queen #1
YA Fantasy
St. Martin's Griffin
April 26th, 2016
Print
342
Fate and fortune. Power and passion. What does it take to be the queen of a kingdom when you're only seventeen?
Maya is cursed. With a horoscope that promises a marriage of death and destruction, she has earned only the scorn and fear of her father's kingdom. Content to follow more scholarly pursuits, her whole world is torn apart when her father, the Raja, arranges a wedding of political convenience to quell outside rebellions. Soon Maya becomes the queen of Akaran and wife of Amar. Neither roles are what she expected: As Akaran's queen, she finds her voice and power. As Amar's wife, she finds something else entirely: Compassion. Protection. Desire…
But Akaran has its own secrets—thousands of locked doors, gardens of glass, and a tree that bears memories instead of fruit. Soon, Maya suspects her life is in danger. Yet who, besides her husband, can she trust? With the fate of the human and Otherworldly realms hanging in the balance, Maya must unravel an ancient mystery that spans reincarnated lives to save those she loves the most…including herself.