Louisiana Saves the Library
Louisiana Saves the Library
Things aren't going well for Louisiana (Louise) Richardson.  After her husband left her, she moved to Saint Jude, Louisiana with her children to work at the university as a Library Science professor.  As her life was just beginning to settle down, the university eliminated the Library Science department and everything is up in the air again.  But thanks to her flamboyant, fashion conscious friend Sylvia, both Louise and Sylvia land positions at the Alligator Bayou Parish's struggling library.  The library is seriously stuck in the past and Louise and Sylvia want to make changes, including adding evening hours, DVDs, CDs and eBooks, but they are getting resistance from the fuddy-duddy director, Mr. Foley.  He is a dislikeable man who only talks to the employees to berate and insult them.
Meanwhile, Louise's personal life isn't doing any better.  She is struggling financially since the new job doesn't pay as well as the old job so she needs to find a cheaper place to live.  On top of that, her ex-husband has decided to move closer to her so he can see the children.  Luckily, she meets the cousin of her co-worker Hope and he is providing some much welcome company, although this lawyer turned strawberry farmer has also been unlucky in love so he is leery of getting into a relationship.
Louise and Sylvia fall in love with the people of Alligator Bayou and they are determined to make it work.  But first they will have to figure out how to get a millage passed to save their jobs that are currently being funded by a grant the expires in one year.  Mrs. Gunderson of the city council is dead set against the funding and the library, but will Louise and Sylvia be able to get enough support to save their jobs and the library and stay in Alligator Bayou?
A fun read, especially for anyone who works in a library or spends lots of time in one.  There is plenty of library humor, romance, friendship and drama to keep you quickly turning the pages to see how it all works out!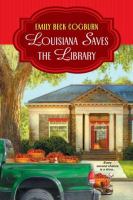 Louisiana Saves the Library
Fiction
eBook