Women go mad on the Nebraska frontier!
Women go mad on the Nebraska frontier!
The Homesman by Glendon Swarthout tells the story of homesteader Mary Bee Cuddy and her efforts to take four women from the Nebraska frontier back to Iowa after the women have gone mad over the long cold winter with too many hardships.  According to the tale, the Homesman is a person, usually a man, who is tasked with taking women who have gone mad back east to their families.  In this story, the husbands don't want to take on the job, so they instead get Mary Bee to do it for them.  Mary Bee bribes claim jumper Briggs to help her even though he is a man of questionable repute.  The Homesman is a riveting story with many unexpected twists and turns as they travel east across the plains of Nebraska. It was also made into a movie starring Tommy Lee Jones and Hilary Swank.
Even though the novel is from 1988, it is well worth reading, especially if you like tales of the American West!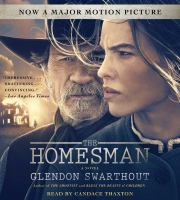 The Homesman
Western
1988
Book, made into a movie in 2014
256