Hamilton: The Revolution
Hamilton: The Revolution
From the moment that my sister first had me listen to "Alexander Hamilton," the opening number of this play–I was hooked. That was months ago and it's rare if a day goes by that I don't listen to at least one song from the soundtrack.  Listening to the soundtrack and scrolling through YouTube for videos is one thing, though–reading Lin's thoughts and notes about different lyrics and stage directions is another. As if I don't love this entire musical enough, reading how he came to make certain decisions or how "It's Quiet Uptown" really affected the entire cast at a certain moment in time made me feel so much more.
I have always loved history. Always. And while rap isn't my #1 genre, something about the mastery of lyrics that some rappers have will never cease to amaze me. When I first heard about this play–that it took one of our founding fathers (one that had had such a huge impact on our young nation but that no one spoke much about) and turned the events of his life into a rap musical, I knew that this was going to be something that I was going to love. I'd say it has been at least three months since I have really started getting into the play and I seriously sing applicable lyrics or talk about these historical figures throughout each and every day. Alexander Hamilton was such an intricate man that I think the best way to show our nation what he was really all about is in the form of rap lyrics. It truly encapsulates his life. From his lowly beginnings to his gradual and then meteoric rise to the top–we are able to feel every experience. I get goosebumps every single time listening to "Yorktown (1776)" when Hamilton sings "Tens of thousands of people flood the streets," after the battle of Yorktown is fought and won. (I mean just picture the EXCITEMENT of this huge mass of newly freed people. I can practically hear the roar of their voices as they crowded the streets). I tear up every single time listening to "It's Quiet Uptown" and "Who Lives, Who Dies, Who Tells Your Story."  Reading this book might not be as good as going to see the actual play, but it does allow you into Manuel's inner thoughts.  You can feel his passion and how important this play was to him, and how important he thinks it is for the American people.  I highly recommend to anyone interested in history, musicals, or something new, fresh, and addicting.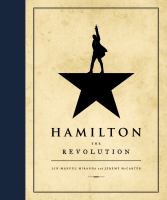 Hamilton: The Revolution
Grand Central Publishing
April 12th, 2016
Print
288
Lin-Manuel Miranda's groundbreaking musical Hamilton is as revolutionary as its subject, the poor kid from the Caribbean who fought the British, defended the Constitution, and helped to found the United States. Fusing hip-hop, pop, R&B, and the best traditions of theater, this once-in-a-generation show broadens the sound of Broadway, reveals the storytelling power of rap, and claims our country's origins for a diverse new generation.
HAMILTON: THE REVOLUTION gives readers an unprecedented view of both revolutions, from the only two writers able to provide it. Miranda, along with Jeremy McCarter, a cultural critic and theater artist who was involved in the project from its earliest stages--"since before this was even a show," according to Miranda--traces its development from an improbable perfor­mance at the White House to its landmark opening night on Broadway six years later. In addition, Miranda has written more than 200 funny, revealing footnotes for his award-winning libretto, the full text of which is published here.
Their account features photos by the renowned Frank Ockenfels and veteran Broadway photographer, Joan Marcus; exclusive looks at notebooks and emails; interviews with Questlove, Stephen Sond­heim, leading political commentators, and more than 50 people involved with the production; and multiple appearances by Presi­dent Obama himself. The book does more than tell the surprising story of how a Broadway musical became a national phenomenon: It demonstrates that America has always been renewed by the brash upstarts and brilliant outsiders, the men and women who don't throw away their shot.