The Sea Keeper's Daughters (Wingate)
The Sea Keeper's Daughters (Wingate)
I really enjoyed this book, although at first it took me a bit to get into the story. I think I was thrown off at the beginning by the fact that it switched back and forth between modern day and the Depression Era … for some reason I wasn't expecting that.  Although this book is classified as Christian fiction, I think it would be enjoyed by anyone as there isn't really anything "religious" about this book.  I'd classify this more as a "clean read" rather than Christian fiction, similar to novels written by Jan Karon and Thomas Kinkade.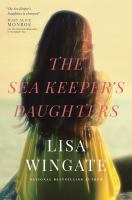 The Sea Keeper's Daughters
Carolina Heirloom's Novels, #3
Christian Fiction
Tyndale
September 2015
Hardcover
405
Restaurant owner Whitney Monroe is desperate to save her business from a hostile takeover. The inheritance of a decaying Gilded Age hotel on North Carolina's Outer Banks may provide just the ray of hope she needs. But things at the Excelsior are more complicated than they seem. Whitney's estranged stepfather is entrenched on the third floor, and the downstairs tenants are determined to save the historic building. Searching through years of stored family heirlooms may be Whitney's only hope of quick cash, but will the discovery of an old necklace and a Depression-era love story change everything?